The Best Minimalist White Sneaker | Veja Esplar
Have you seen these white minimalist sneakers with the V logo floating all over fashion world Instagram accounts? They are called Veja sneakers. I've been watching them for a while and have been wanting to give them a try. As you know I am no minimalist, but I love a sneaker that I can wear with a casual outfit, or that I can wear with a dressier outfit to make it casual. The minimalist white sneaker is the key to closet versatility. These look as amazing with my Lululemon Align Pants and Scuba Hoodie as they do with my jeans and wool coat or blazer. You know these are cool-girl shoes when you can find them at Shopbop, Revolve, Madewell, Nordstrom, Anthropoligie.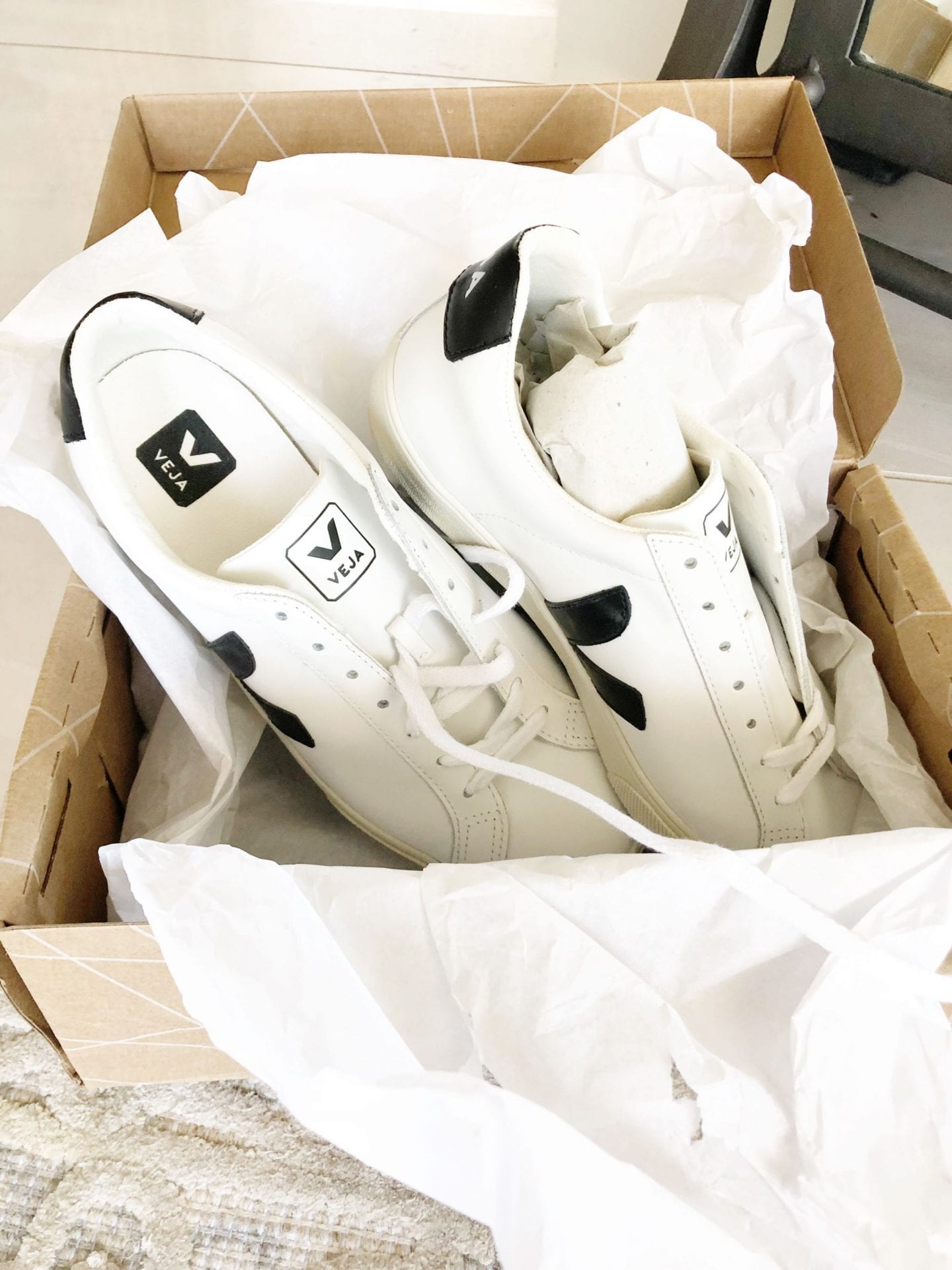 About Veja
Before I get into the style points about this sneaker, I wanted to mention how good this company is and why I feel so good about this purchase. Veja is a French company that produces these shoes ethically and sustainably.
These guys are an environmentally friendly and fair trade company, and all the materials are sourced in Brazil. Veja works directly with their producers and uses wild rubber for the soles and logo (fights against deforestation), well-sourced leather (low chemical tanning, traceable leather, minimal water usage in treatment), inner lining is made of recycled plastics, vegan shoe options.
Basically, from start to finish the brand has paid attention to reducing the effects of fast fashion waste and pollution. Additionally, their factory workers in Brazil have good working and living conditions, ILO rules are followed and 80% of the workers are unionized. By the way, the pair I have are called the ESPLARS which are named after Brazilian NGO that brings technical support to organic cotton farming families
The Look
Stylistically, these shoes are exactly what I've been looking for. I love that they are high quality leather, lower at the ankle and are mainly white with just a bit of understated contrast. My first pair had to be the white with black contrast but there are so many other pairs that have caught my eye. I'd love an all-white pair, or the V-10's with the blue and red trim, or the Gucci like red and green contrast. I also may have purchased a second pair off Madewell that has little embroidered flowers which were on clearance.
But They Must Be Expensive…
The price point on these is another fantastic feature. They range in price from $85 (my sale pair from Madewell -this Star pair is on sale too!) to $150. I had been considering getting a pair of Gucci Ace sneakers for a while but despite having saved up for them I've not been able to pull the trigger. These are the same elegant look but way more understated and a far better value.
How the Veja Esplars Fit
These Esplars do take a little bit of breaking in, but only a few wears. They are high-quality structured leather so they need a bit of time to mold to your foot. The only part that was uncomfortable at first was the tongue which is a little high, and very stiff. This makes the tongue cut into my ankle a bit which you can see in my photo below.
If you are wearing socks that come up underneath the tongue it's fine, but if the tongue sits on your skin it tends to dig in as you walk. Once I wore them three times with socks, the tongue was broken in enough that I can now wear them without socks. That leather just needs to soften a bit.
See Also
Comfort Level
The sneakers are pretty flat and there is not much cushion for those of you that like arch support. You get a fair bit of shock absorption from the rubber soles though and that's all I need. The soles feel the same as vans or converse so if those are good all day shoes for you, these will be just fine.
Sizing
Sizing wise these are a bit tricky. They are unisex and European sizing. I am a size 9 and I took a size 40 which was the correct size and they fit perfect. Look at the sizing chart for your true size because European sizing is different from Italian shoe sizing. For me, I take a 39 – 39.5 in Italian shoes, but a size 40 in European shoe sizes. It all depends on the manufacturer

You can see here how the tongue sits a bit high at first.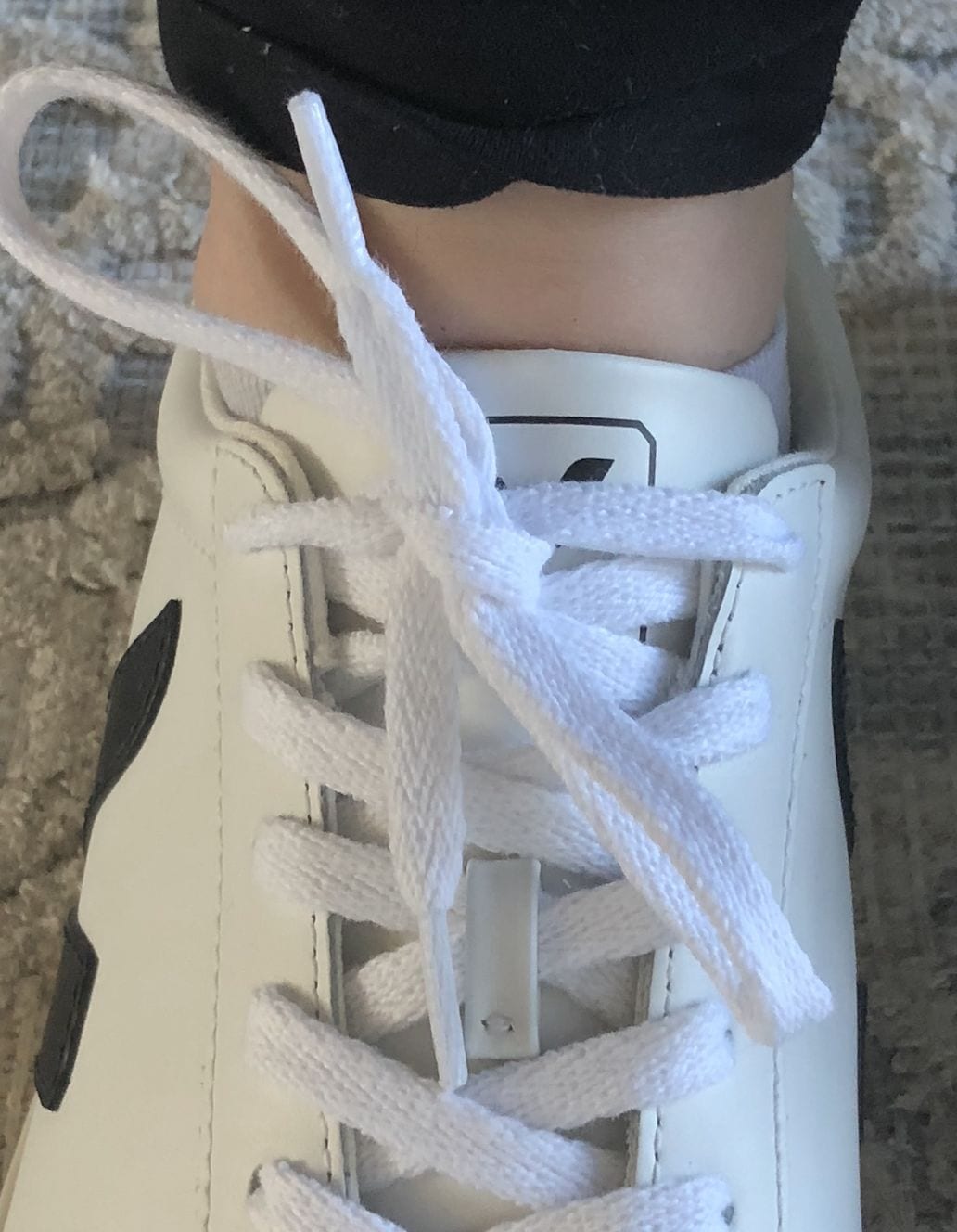 Final Thoughts
If you are looking for a great fashionable sneaker, get these. You can't beat the price. There are so many color options and combinations and they look so fantastic. They are better than the ubiquitous Adidas, and not as in your face as Gucci. They are exactly the right style statement. PLUS, you are contributing to a company that is making huge efforts to create a sustainable, ethically produced product in a fast fashion world.

If you've read my review on Golden Goose sneakers you are probably wondering how they compare. Because I got my GG's second hand and I was trying to find the lowest price possible (because they are $$$), I was limited on color choice. I still love them and especially really love the hidden wedge. If I had my pick for those though I would go with a more fun color/print combination, or a white with bright pink contrast, as those shoes lean towards a maximalist style, whereas the Vejas beauty is in its minimalistic simplicity. I love them both for different reasons.
Buy Veja Sneakers Here
Cristina
Cristina founded The Sweat Edit in 2010. She lives with her husband, two daughters and two boston terrier fur daughters in Vancouver, BC. Cristina dabbles in many creative hobbies such as drawing, painting, and jewelry design which sometimes makes it's way here on the blog. Cristina enjoys various sweaty pursuits such as Peloton spin, olympic weightlifting and running.