I didn't order the Non-Stop Bomber Jacket Ripened Raspberry jacket a few weeks ago when it uploaded. I didn't think it would sell out that quickly because it is such a BRIGHT color. It's pretty much a neon. I loved it instantly online, but wasn't quite ready to pull the trigger then. A few nights ago I decided I should order lululemon bomber jacket women's in the pink, but alas it was fully sold out. Yesterday I happened to find a lone one at lululemon, and it was a size down from what I would have ordered. Luckily the fit was spot on so I snatched it up.
On to my lululemon women's bomber jacket review:
Non-Stop Bomber Ripened Raspberry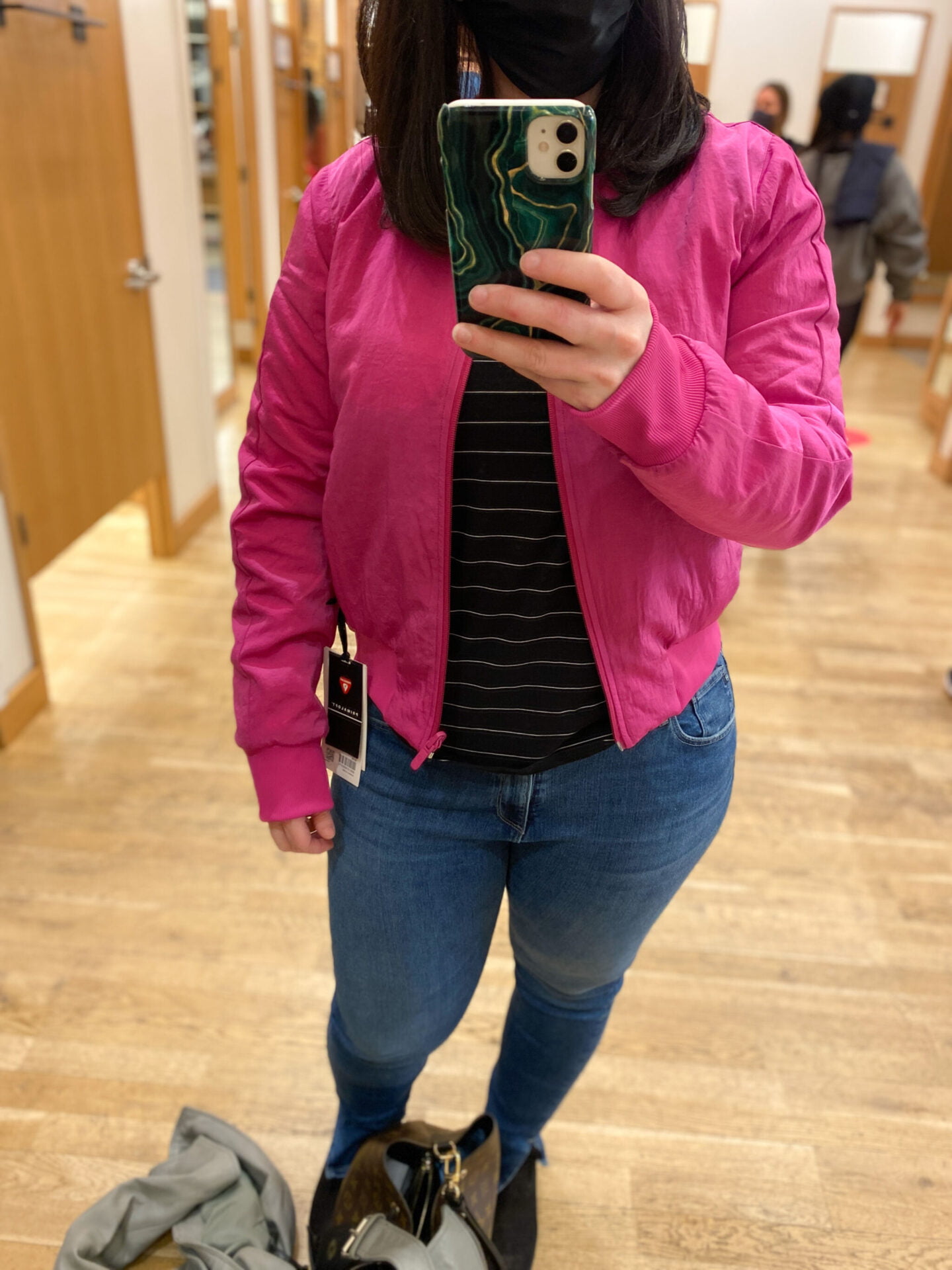 This is a very BRIGHT PINK lululemon bomber jacket and such a fun pop of color. I love it. I especially appreciate that the inside has a darker more subdued pink option with contrasting cuffs. Who doesn't love a lululemon reversible bomber jacket?

This will look so great with black aligns and a black align tank underneath. I've held off getting this jacket in the past because I wasn't sure how I'd like the outside part of the jacket worn on the inside, but it's actually not unpleasant. My sister got the Non-Stop Bomber in black a few weeks ago and she's obsessed with it. She looks fantastic in it.
I love the fit of lululemon bombers. They have really nice squared shoulders with a flattering silhouette. The proportions are really good, and it's not too short. Bomber jackets with strong shoulders highlight a smaller waistline in a really feminine way. I have a few different brands of bomber jackets because it is a style that works so well for my curvy petite body type. I think a good bomber jacket is a style staple. They work similarly to blazers in pulling an outfit together and creating structured shapes. I hate a bomber that has sloped or rounded shoulders, or that is too puffy and undefined.
I'm feeling inspired to share a post with a comparison of my Mackage bomber, Alpha Industries bomber and my new lululemon non-stop bomber. Let me know if you guys want to see that.
This jacket is made for rain despite not having a hood. It's water repellant and warm with the prima loft lining. I don't wear my bomber jackets for weather though, they are more of a style choice than a practical choice.
shop lululemon reversible bomber jacket here
Non-Stop Bomber Jacket
Ripened Raspberry
Designed for On the Move
Water-Repellent, Glyde™ Fabric
Zippered pockets on one side
Pockets on both sides have hidden phone sleeves
Reversible! Flip inside out for two different looks
Some great photographs lululemon bomber jacket womens
shop lululemon reversible jackets, and more!
[show_shopthepost_widget id="4753683″]