Sharing the Gucci bag women love the most for travel and comfort! The Gucci Marmont Bag is the best seller online as well as on all resale sites. If you are shopping for Gucci shoulder bags, this is really the best. The Marmont Small Matelasse Shoulder Bag is an ideal travel companion. It is lightweight and compact but still offers plenty of room for everything you need.
The Marmont Small Matelase Shoulder Bag is an excellent choice for those looking for a versatile carry-on that will fit in any type of flight. This bag has a spacious main compartment, which includes a zippered pocket on the inside flap.
The Marmont Small Matelassé Shoulder Bag is made from high quality, durable leather.
The Gucci Marmont Camera Bag has the softest most supple leather, yet durable leather. Because it is so lightweight, and can be worn crossbody, it makes the perfect handbag for traveling. You can fit all of your essentials in this luxury handbag, and have it securely stashed on your body. You don't have to worry about babying this bag as it's well made and durable.
I got a new bag for Christmas and I am so completely in love with it! I'm reviewing it in case any of you have been debating this bag, or any camera bag style really. Behold the Gucci Marmont Small Matelassé Shoulder Bag!
gg marmont small matelasse shoulder bag review
I have a few special handbags but my daily bag has been the Louise Vuitton Neverful for many years now. I really love that bag, but as an everyday bag it's just murder on my shoulders. I've been contemplating a lightweight crossbody bag for a year now and had narrowed it down to the Gucci Soho Disco, or this Gucci Marmont Camera Bag. I really love the casualness of a camera bag that zips closed at the top and can be worn crossbody or on the shoulder, and is very lightweight. This is really the perfect style of handbag for travel since it's safe and secure, lightweight and hands-free. I need my daily bag to easily fit my essentials; small wallet, keys, cell phone, and other miscellaneous small items and this fits the bill perfectly.
The cutest camera bag from Gucci
I can't recommend the Camera Handbag Style enough and if you are in the market for a preloved bag, check out all of these camera bag options from many different designers, or this Marc Jacobs one that comes in 17 different colors! I have a few Rebecca Minkoff bags as well so I can attest to the quality, and I was happy to see she has this camera bag on sale for $135 Canadian. I'm fully on board with the Gucci hype though and am loving the entire Marmont line so that is where my heart was when I was handbag shopping.
Gucci Marmont Small Matelassé Shoulder Bag
What I love about styling this bag
I ended up picking the Gucci Marmont Camera Bag over the Soho Disco because although it's a really casual style and shape, it's got some elevated details that make it really elegant which can transition it from a casual outfit to a dressy outfit.
I just love the quilted chevron print and the antiqued gold hardware. The chain is surprisingly light but durable. I have a wallet in this matelasse leather and it's held up incredibly well without even the tiniest scratch after two years so I wasn't worried about going with this bag over the Gucci Disco which has a pebbled leather. This one is slightly more structured but the leather is definitely soft and pliable. The Gucci Soho Disco is a more subtle and casual bag and perfect for more casual outfits. Subtle logos, no hardware and stunning colors. The sizing is really similar to this bag, it's slightly taller and slightly narrower. You cannot go wrong with either design.
The sizing on this bag is another thing to consider. There is a mini size and this 'small' size. Both fit the key items; wallet, phone and keys, but the small had much more wiggle room which I find easier for pulling items in and out. With the small size I have room to put my sunglasses on top as well as several smaller items like lipstick, passport, coin wallet. The mini does not have an adjustable strap but this small one does. I have not had to adjust the strap so far because it's the perfect length for crossbody which is how I wear it, but if I wanted to wear it on my shoulder I would probably want to adjust it shorter.
[show_shopthepost_widget id="4814622″]
The Gucci bag women ask me about the most! Sharing my newest Gucci marmont review
The cutest Gucci shoulder bag detail. The double GG's on the back of the Gucci Marmont Camera Bag
This is a Gucci bag women should have in their collection as their 'easy to carry' and chic travel companion.
This bag has two main compartments; one large compartment and one smaller slip pocket.
As you can see here the storage space is deceptively large. It's really the perfect travel size bag since you can also throw your sunglasses in here.
Bag Dimensions and Features
Weight: .394kg approximately
Small size: 9.5″W x 5″H x 3″D
The bag features a secure zippered closure with a long leather zipper pull. A fully adjustable shoulder strap with chain detail, roomy interior space that fits plenty of essentials, and a smaller interior slip pocket.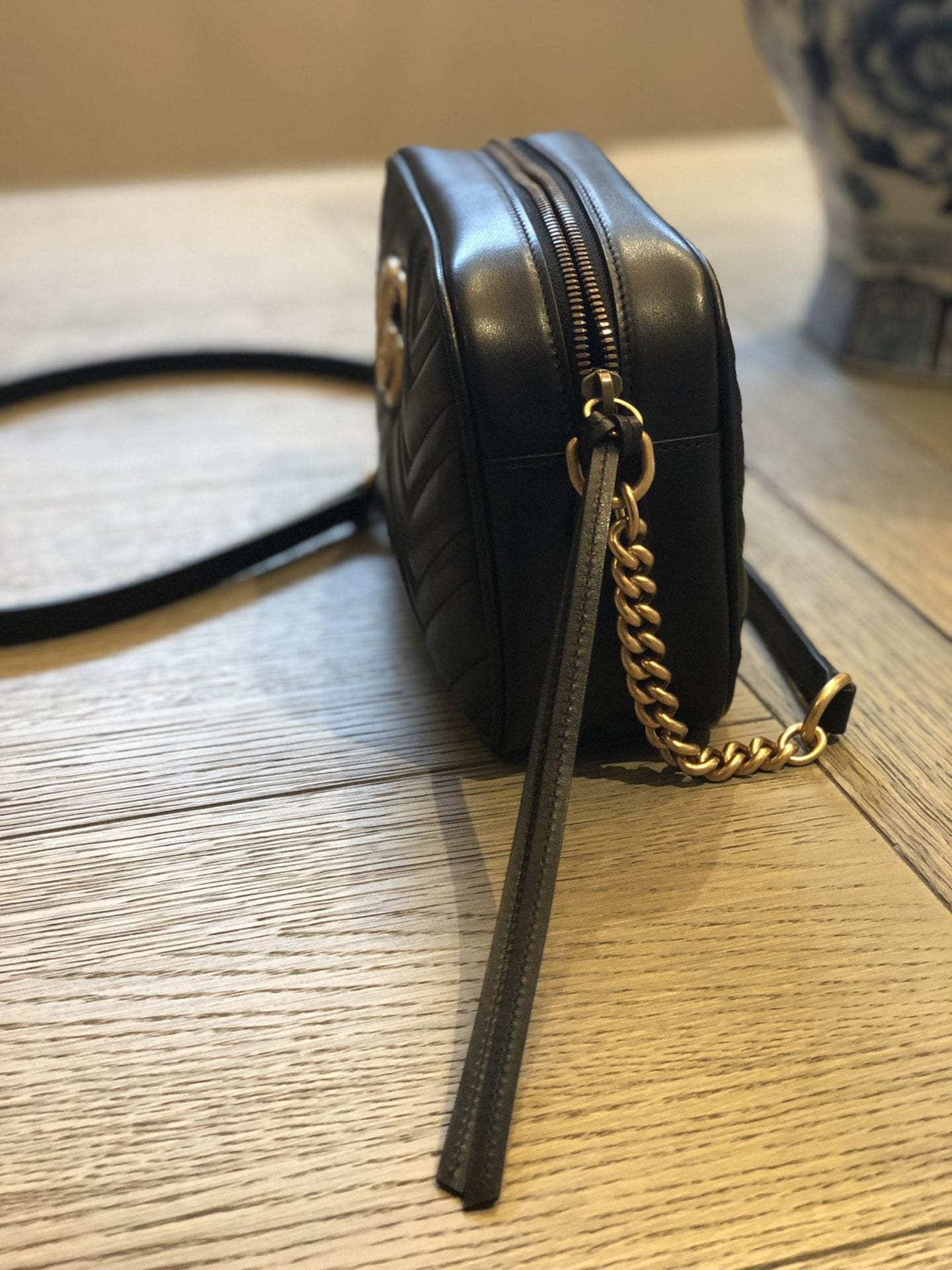 How Much Does This Item Cost?
As of 2022, the Gucci Marmont Small Shoulder bag costs $1650 USD | $ 2140 CAD. There are several styles available in the Marmont collection at various price points, and there are even mini bags available which are priced at $1490 USD | $1945 CAD
A Gucci bag women love for it's small practical shape!
I love this bag so much that I'm considering saving up for the red one. I may go for the Soho Disco in the red, or go with this exact same shoulder bag in red. I'm not sure.
What do you guys think? Are you fans of Gucci Marmont? Do you prefer a camera bag crossbody or are you a large bag person? Lets chat handbags in the comments.
[show_shopthepost_widget id="4814622″]