Behold, the Lululemon x Roksanda Haul! My biggest Lululemon Haul in 10 years. Some of these pieces are selling out fast so if you have your eye on something, snatch it up. I think this stunning blue and black Face Forward Define Jacket is just about gone. Don't even wait to read my review. I'm telling you right now just go get it. Come back and read this post after.
Shop The Lululemon x Roksanda Collection Right Here

I Love The Collection. Here is Why:
This collection is by far my favourite thing Lululemon has ever done. Roksanda x Lululemon is just incredibly beautiful, and really special. The collaboration is pure genius and such a perfectly symbiotic marriage of design styles, and contrasting fashion realms. Lululemon x Roksanda celebrates exactly the thing Lululemon was known for from the beginning. Unapologetically feminine designs, boldly taking up space in a male dominated market where women had not been previously acknowledged or taken seriously.
If statement pieces and high fashion designs are not for you, then stop right here. Just remember though that women wearing pants used to be absurd.
I love that they took Lululemon's most iconic design (or ubiquitous depending on perspective) and played with exaggerated proportions. I love the Face Forward Define Jacket and don't find it all that 'out there' to be honest, but to some it may be really pushing the envelope. Fashion is meant to be fun, and exciting and a means of self expression. Clothing is your armour against the world.
Fashion VS. Apparel
Some days, probably the majority of the time, I like to wear all black to the gym and take up as little space and attention as possible. Some days I'm in the mood to have fun with what I wear, and wear colors and styles that are pleasing to me for no other reason than I love it. It doesn't have to make sense or mean anything and it doesn't have to fit in the status quo.
If pink puffy sleeves are stirring something in you right now and you are really bothered by this collection, nobody is telling you to wear it. You never have to waive the fashion freak flag ever if you don't want to. Isn't that the beauty of 2019? We can wear what we want and be as loud and absurd as we want. We can go to the gym and wear shorts as short as we want, sleeves as puffy as we want or skin as covered up as we want. You don't have to explain yourself for what you like or who you are. This is what I tell my girls whenever they get the 'Ewe, your wearing THAT?' from their harshest critics. That female aggression is relentless.
On Wednesdays, we wear whatever the hell we want to wear.
For those of you that love the collection too, or are admiring it from afar, these are my thoughts:
First Up, Jackets (Not The $1000 One Though)
As I said above, I love that Roksanda took Lululemon's most iconic and long standing favourite, the Define Jacket, kept it's essence and created something very fresh and exciting. This jacket will look equally awesome worn with jeans, a great handbag and some big sunglasses.
Ignoring the silhouette for a minute, the design details on this are just so extra and perfect. The hardware is substantial and there is a loop along with the zipper pull. The back of the jacket has a contrasting patterned rope detail at the shoulders and at the adjustable waist on both sides. You also see that contrasting repeated on the inside of the jacket. The same round woven rope is carried through on all the designs in the capsule in different widths and color combinations.
The technical fabric has structure and drape in all the right places, switching from soft nulux to a more woven nulux jacket material on the arms, and a silkier material at the back.
The new silhouette is dramatic not just because of the sleeves. The neckline is a bit higher which gives it such an elegant and edgy look. The higher neck also really balances the proportions of the sleeves along with the ever so slightly wider shoulder, and slightly longer back flap. The taper of the sleeves from the top of the arm to the wrist is also beautifully done. The body of the jacket looks the same but the tailoring has been altered and perfected.
Sizing: I took a size 10 in this. I would take your usual Define size and not size down in it at all. The front is still structured like a Define and the back is meant to be flowy.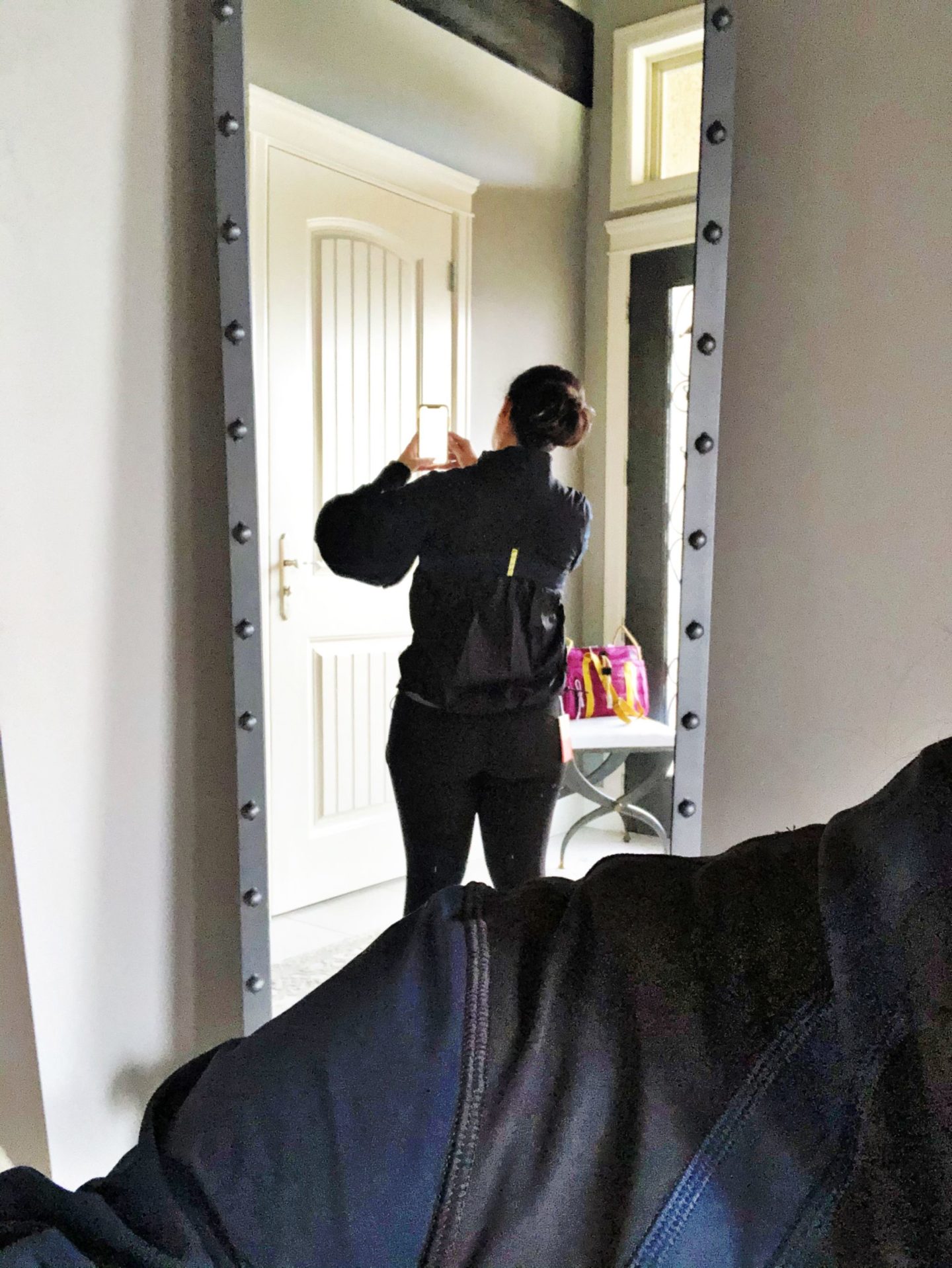 Shop The Lululemon x Roksanda Collection Here

The Break New Ground 1/2 Zip looks deceptively simple online. That's the beauty of really well made high end designer items. The proportions on this pullover are so amazing. I love the zip up neckline and how high it goes. It looked equally great zipped up all the way, and zipped down. I really, really love the victorian style sleeve ruffle with the adjustable rope ties. The cinch ties also allow you to wear the sleeves up higher to show off a long sleeve top underneath. Such perfect consideration to layering. It's such a great contrast to a sporty street style look. Of all the pieces I thought for sure I would end up returning it was this one, only because it seemed like it would be really plain and simple. I was so wrong though because I love it and will wear it a lot.
The sides are adjustable as well. You can unzip for a looser fit, or zip them up.
Sizing: This is another very confusing lettered sizing item. I ordered a medium in this but really wasn't sure what to pick. I'm typically a size 8-10 in lululemon. I am happy with the fit. I could have easily done a size L as well but this is perfect and I can layer it over a long sleeve.
Next, Roksanda Super Hero Tights
All of the photos above are featuring the black and navy Break New Ground Tights. They are just beautiful and not really 'out there' as far as design concepts go. I love the color blocking on them in both colorways, and love the large logo at the back of the calf (and on all of the pieces), and the contrasting rope pattern at the waist. Black and Navy is a combination I love, and the neon yellow gives it such a cool sporty vibe. I would wear those even on my most Basic Bitch days. I think what Roksanda does so well is balancing colors in a very flattering way. What stood out first for me in this capsule was her use of color, and how she proportioned each color with it's contrast. In this Marvel colorway, I REALLY love the little hints of Schiaparelli Pink.
I took a size 10 in these which is my usual size. They are compressive and fit snug, similar to the Seawheeze Reflective tights from this year. I wouldn't say they fit tight, they just have compression thanks to the Full On Luxtreme. The waist is a really nice rise. For all of the colorblocking and the compressive fit, I didn't feel any of the seams at all. I just read that the seams are bonded which is why you don't notice them.
I'm 5'4 and short legged so I do lose a little bit of the detail at the lower leg, but I still love them.
Lululemon x Roksanda Gym Bag
If you where to get one item from this entire collection, and it's hard to choose just one item, it should be this bag. It's beautiful and functional and like nothing Lululemon has ever done before. Yes, I even love this bag more than any 2013-2014 Lululemon gym bag and they've had some really beautiful bags in the past. It fits a 15″ laptop and it's a full size gym bag which will fit a change of clothes, shoes and a multitude of gym bag necessities. It has plenty of hidden compartments and pockets and two really roomy water bottle pockets. I love all the rope detailing and the contrasting colors. The top of the bag zips fully closed which you don't see online. For how big this bag is, I love that it's not super wide.
If you are being picky about function there are two things to note on this bag. The crossbody strap is a round rope and if you only ever wear your gym bag cross body, the rope might feel uncomfortable on a fully loaded bag. It's a soft rope, not hard, but the shape might dig in with a lot of weight in the bag. The crossbody rope is not adjustable in length. The other thing is that the interior of the bag is dark and if you lose items in dark bags you may feel annoyed by that. On the positive side though, you won't see how gross the inside of your gym bag gets. Who cares though really because this bag is stunning and I love it. I will wear this as a large purse somedays because I love it that much.
Shop The Entire Lululemon x Roksanda Collection Here