New lululemon shoes – the newest restfeel sandals in green, pink and black. Priced at $58 USD and $68 CAD. Keep reading to see why I love lululemon restfeel slide.
Reviewing the newest restfeel shoes from lululemon
Reviewing the Restfeel Slides after wearing them around for over a month
The newest lululemon shoes (the women's slides) are here! I'm reviewing the new restfeel slides today! Back in late May I ordered both the pink and green lululemon slides. Although I did like them, I preferred the black. Once the black pair dropped on the Canadian side I went ahead and ordered them, and returned the other two.
Read Mary's review of the Restfeel Slides, worn after her long run. She's a serious runner, and has a great perspective on recovery sandals.
Sorry for the unpedicured feet on the left. I did blur out the nails a bit so you wouldn't be too offended.
If you are here for feet… please click the links and make a purchase.
When I first received my lululemon slides in black I was a little sad that the material seemed to have a mark on them that looked like a scuff. I was really worried that was a permanent mark on the upper but after wiping it with a damp cloth, the mark came right off.
I typically wear Birkenstocks which are a very supportive sandal. These are 'recovery shoes' meant for post run recovery, so the footbed is very soft and cushiony with no arch support. I was a bit worried at first that the shoes would make my feet ache but actually, they are so comfortable. I love wearing them and lately, I'm grabbing them over my beloved Birkenstocks.
These are such a chic look! I love pairing them with different outfits and what I found was that despite the casual simplicity of this shoe, it works well with slightly dressier summer outfits.
How they fit
I take a size 9, and these are tts. If you are at all in-between sizes I would choose the next size up. These are as short for my feet as I would like.
The shape of these shoes is so well proportion. It seems to make my foot seem more narrow which I like.
My favourite lululemon shoe so far

If you can get your hands on a pair I recommend them highly. In fact, I would love a second pair in white to wear with my lighter color summer dresses.
How much are the new lululemon slides?
The new lslides are priced $58 USD and $68 CAD for both men and women's style lululemon sandals. They are available in a variety of colors.
Here are the colors the restfeel slides came in:
Some cute lululemon restfeel slides outfits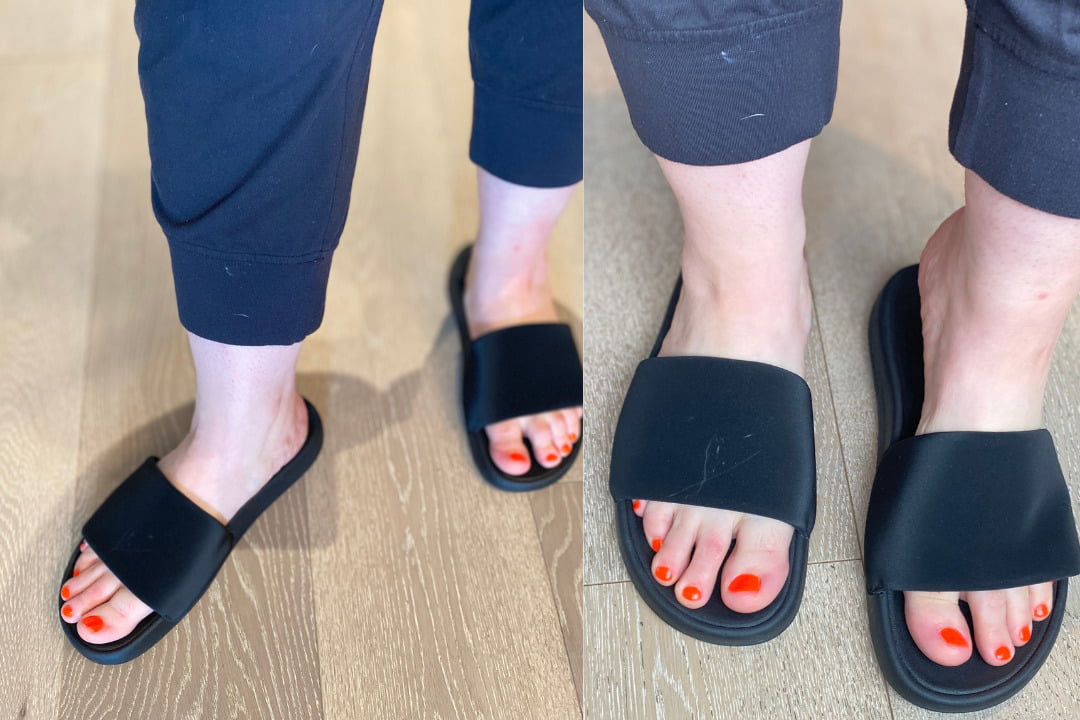 shop lululemon slides right here: