My The Rain Is Calling Jacket II Incognito Camo Multi Grey just arrived! Happy day!
First off, I wanted to give you guys a heads up that Nordstrom is currently having a big sale (again!). This time the discounts are greater, and almost all of the items that were on sale during the Nordstrom Anniversary Sale are now further reduced. They are calling it a 'Summer Sale' and everything is 40% off. This summer sale is actually all the 'fall items' from the NSALE so that's a little strange. Anyways, if you can, repurchase your items at the lower price. If you guys didn't participate during the NSALE maybe these prices will be more enticing to you. Read all my NSALE posts here to see what I reviewed or check out the gallery for all the fall items that are now on sale. In this post I am wearing this sweater from the sale, and these jeans. 
The Rain Is Calling Jacket II Incognito Camo Multi Grey
Overall Fit
I sized up in the Rain Is Calling Jacket because I primarily will wear it layered over thicker sweaters in the fall, which is what I chose here for this review. I'm really glad I sized up and I think if I had stayed TTS it would have fit, but it would have clung around my hip area. If you normally plan on wearing this for running, a snugger fit is fine since you don't want to dress too warmly for runs, but for street wear you will probably want to size up.

Design
I was a bit hesitant on the design of the back flap since on the web photo the back flap protrudes a bit. This is a great design feature because it adds an extra layer of rain protection on your shoulders and upper back, but I don't love the look of that on trenches or run jackets. I was really happy the back flap was much more subtle in person and laid flat. This jacket is fully waterproof and the zipper is seam sealed. The seam seal feature on the zipper makes it a bit sticky to zip up and down, but it's a feature you will be thankful for in a downpour. 
Is It Worth It? 
Is it worth it? I think it's been a really long time since Lululemon has put out a great jacket with prints and color options, especially in always popular camo so for that reason I'm very inclined to keep this one. It's fully waterproof which is a bonus but I do think this is one of Lululemon's priciest run jackets at $198.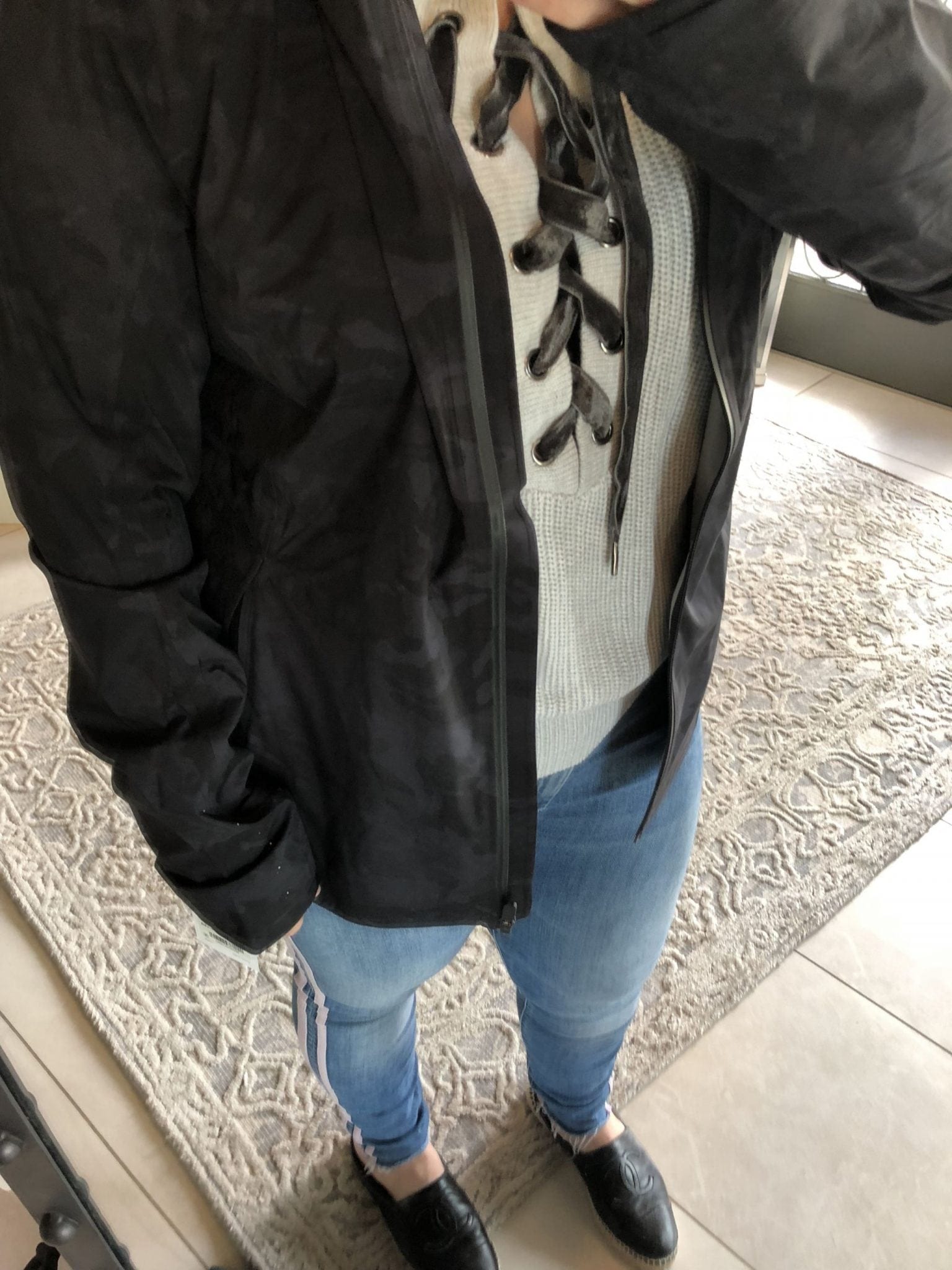 Shop The Lululemon Upload Here
[btnsx id="13202″]