My Seawheeze 2019 Runners Showcase Store Experience
The Seawheeze 2019 Runners Showcase Store can be such an overwhelming and exhausting shopping experience. It's such a fun, high energy event though. I'm always excited to participate no matter what I end up bringing home from the store. I love soaking it all up!
The New And Improved System
This year the Seawheeze 2019 Runners Show Case store was such an improvement over the previous few years. Thanks to a new more democratic system, all shoppers mattered. This is the second year they've had scheduled entry times for the pre-shop. As much as I love visiting with friends during Seawheeze, I have never been sentimental about camping out on concrete overnight. The overnight lineups is something we've begrudgingly endured. We've made the best of it in order to get to the showcase store within the first few waves.
The Reflective Capsule

This year they had a new card system for the reflective capsule. Each person in line got one of 4 cards with a different name on it. Cherryblossom, Arbutus, Blackcomb etc. This system allowed us to shop the rest of the store while we waited for our turn at the reflective shop. When our card name was called we could then line up for up to five reflective items.
Inventory Management
There was plenty of reflective items to last several hours this year. I believe they had enough reflective shop cards for all the reserved runners. Overall, they had a lot more inventory in everything. Possibly fewer designs. Definitely fewer prints and patterns in the women's items. Of the none reflective pieces, I was only super interested in one Seawheeze item which I did not purchase. There were a few others items I liked but not enough that I wanted to purchase. There was less design effort this year, and no real cohesive unifying theme to give context to any of the colors.
Pricing
Lastly, a change I was really happy about is that they had reflective tight options in a more moderate price point. This is my first year getting my hands on reflective pieces. I can't solely blame that on the hyping/hoarding issues that have been going on in past years, because it has also been an objection to the pricing. I purchased two reflective tights this year at $148 each. I just CANNOT spend $298 on one pair of leggings even if they are really pretty. They just aren't 100% more pretty than the $148 pair. I really liked The Rain Is Calling Jacket in dark blue (not reflective). I hesitated because of the $228 price tag on such a simple design in a color we see pretty often.
What Sold Out, What Was Left
The only sell-out pieces in the reflective line by about 1 pm when I left where the sub $150 items. When I left for the day there where still tons of reflective Mist Over Windbreakers and Post Wheeze Cape jackets left ($398/$498), Speed Tight V's ($298) in smaller sizes, and Energy Bras ($128).
The photos I have below show the amount that was available at 1pm. We didn't realize it at the time but there were a few reflective items outside of the reflective store.
The Brunswick Muscle Tank in black was a really simple tank with block lettering on the front, and it ended up being reflective. I don't believe the green version of that tank was reflective. That Brunswick Tank sold out right away and it seems to have been the sleeper hot seller. There where also many Scuba Hoodie colors with Seawheeze written on the arms. (and they where super soft!). We didn't realize until later that the lettering on those where reflective too.
Mist Over Windbreaker

Post Wheeze Cape

Speed Tight V
My Seawheeze 2019 Haul
This was my smallest Seawheeze Haul ever. I purchased the reflective Speed Wunder Tight in Black with reflective lettering, and Speed Wunder Tight in Summer Mirage Multi with reflective lettering. I was hanging on to the Rain Is Calling Jacket in blue. I didn't like the steep price the jacket so once I got both reflective items I wanted I put that one back. My group was the third wave of cards that got to shop the reflective shop and I half expected it would be sold out. I just couldn't believe that I actually got to get reflective items finally, and they were priced really well.
Speed Wunder Tight | Seawheeze Summer Mirage Multi with Reflective Lettering
I really love both reflective tights a lot. The original 'rainbow reflective' is very pretty but it is also very statement and attention-grabbing with all over, denser reflectivity. As much as I like them, I wouldn't wear them very often because of the statement print. The black Speed Wunder Tights have the subtlety of a black tight with a nice pop of rainbow reflective on the sides. You don't really see the lettering unless they get illuminated. This style is still pretty extroverted for me but I like that it's more wearable reflectivity. The Summer Mirage Muti is really fun and flattering mini dot print with greens, pinks and blues. The reflective lettering is well hidden in the print until it gets illuminated. The Summer Mirage Multi-Speed V's with all-over reflective were $298, but the print was less vibrant than the pair I got.
Speed Wunder Tight | Black with Reflective lettering
Love Tee Crewneck *Vancouver
Later we wandered over to the flagship Robson store where I found these two Vancouver graphic print Love Crew Tees. I love them! The graphic is so retro Vancouver. It's 1980's tourism Vancouver graphic style circa Expo '86. The men's line had this same print, but they where vitasea and $20 more expensive.
Did you come to Seawheeze this year?? I really want to know your thoughts about the showcase store and your overall experience.
The Seawheeze 2019 Showcase Store Merch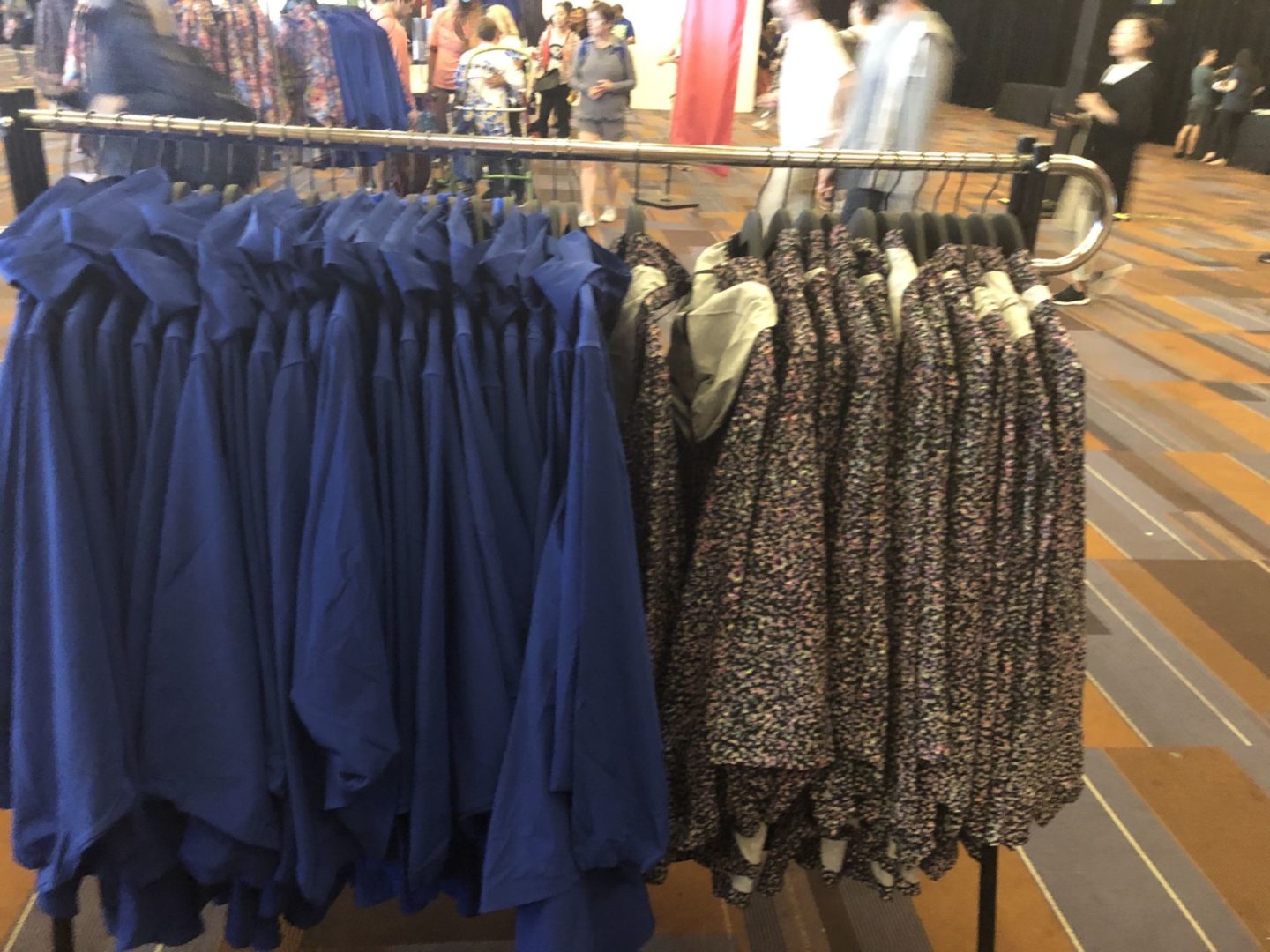 Congratulations Seawheeze Runners!