Guys! I am so sorry I went AWOL this week! I was in Toronto and Muskoka for a wedding and had fully planned on doing some blogging while away. I knew the wifi might be a bit dodgy in Muskoka but I didn't realize it would be pretty much nonexistent, and also very dodgy in Toronto at the hotel we stayed at. I don't think I've ever gone away and not blogged at some point during a vacation. There will definitely be an upload post but just wanted to pop in with this quick post ahead of it. Anyways, while in Toronto my husband still had to work so the girls and I were tasked with picking the wedding gift up at Nordstrom. Of course, while I was already there I got to try on some of the NSALE shoes and explore what the Toronto Nordstrom Anniversary Sale selection was compared with Vancouver. Yes the sale is dwindling down in stock but I found a lot of items I was interested in with full size runs, or mostly full size runs.
This Rails Sweater is my favorite sweater I've tried on from this sale. It's exactly my style and I adore the velvet lace-up neckline. I'm still dreaming about the beauty of this sweater but ultimately I didn't buy it because I felt it was on the pricey side even on sale considering it was made of an acrylic cotton blend. It's very soft and because it's acrylic it will probably wash very well, but I just wish it had been made from merino or cashmere at that price point. I just couldn't bite the bullet on it but I really do love it.
By the way, here the Olivia Lace-Up Sweater is made out of Cashmere/Wool, unlike the NSALE version.
If you guys have been reading my blog a while you know that I'm super picky about shoes and shoe quality. This sale does extremely well with shoes and a lot of the shoes are very popular sellers but I can't recommend shoes that are man-made material for the price points they are at because they will only last one season and they may cut up your feet with blisters. Stick with shoes that are leather outer and leather linings like Frye Boots, Cole Haan, Lewit, Louise et Cie, Tory Burch, Aquatalia, Borne etc and they will last you for years and years. This is better for the environment and better for your closet space. I avoid most of the lower end man-made material shoes even if they are super cute (unless you are cruelty-free, then your considerations are completely different). These Lewit shoes are absolutely amazing quality, and I love the style of them. I picked them up a few times and admired the leather quality and how buttery soft it is but I shied away from trying them on because of the ankle strap. I tend to avoid shoes with ankle straps because they can visually shorten your leg, or draw attention to undefined ankles. I didn't find that at all with these shoes once I tried them on, and found them really feminine and pretty on. I love that these are made in Italy and not only have a leather upper but leather soles and lining. I would still recommend trying on and being cautious about how these look on straight ankles, but if you are like me and have short curvy legs these may work for you despite the ankle strap. I take a size 9 in almost every shoe, and these where perfect for me in a size 39. In European sizes a size 9 usually coincides with 39.5, but in this case they are 39's.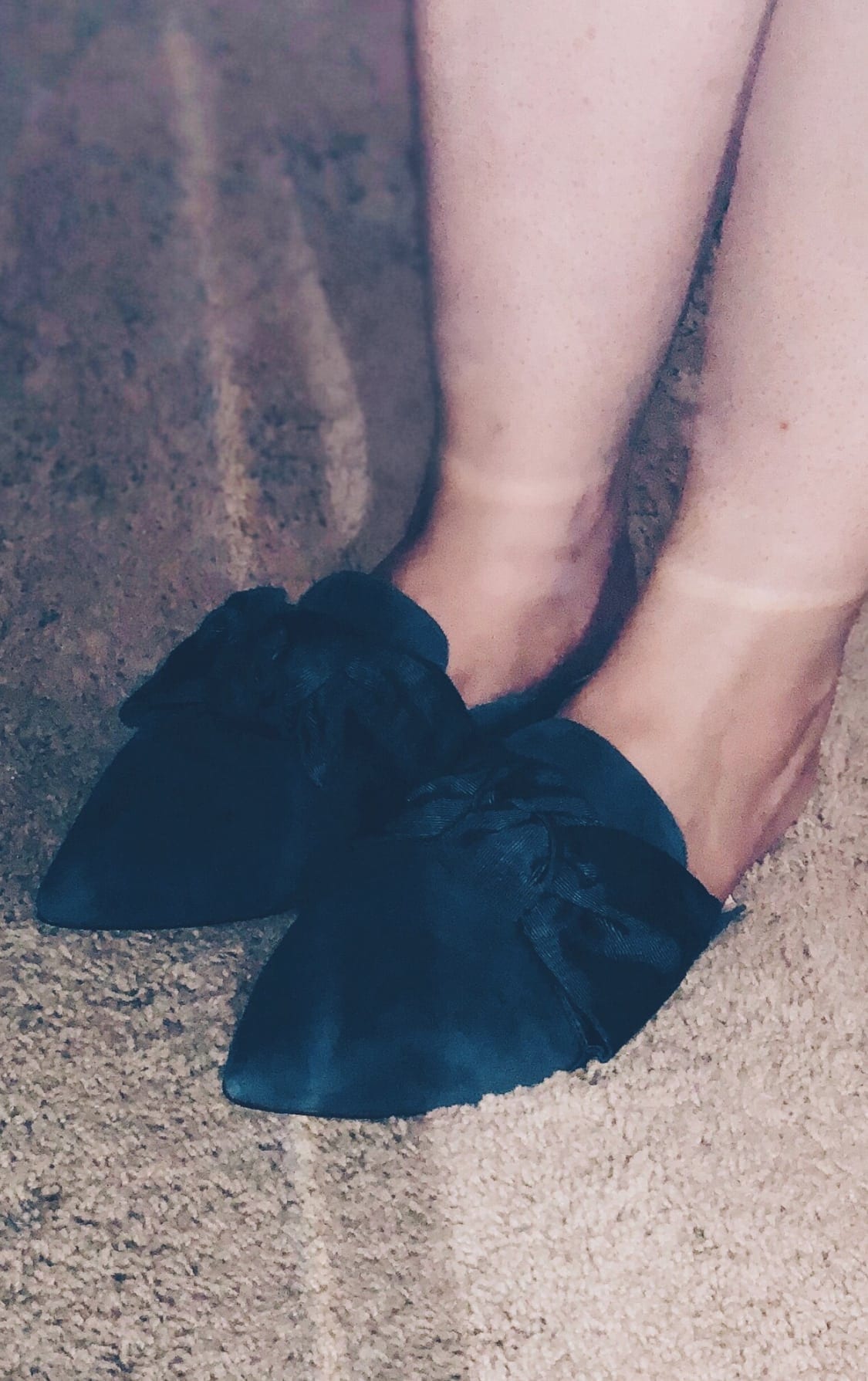 These are another shoe I loved but didn't keep. The quality is amazing (and the price point is unbeatable) and the sole is soft and cushy. Unfortunately, my preferred color choice of black was not available in Canada at all. Canada got the denim blue and the leopard print, and I like both of those but I wanted the versatility of the black pair. These are TTS and I know a lot of people recommended sizing up in these but this is leather so it will soften and mold to your feet and a half size up will make them too large within one wear.
These sneakers were the first purchase I made on the very first day of the sale and I am still really happy I ordered them. They are fully leather and the leather quality is really nice. I especially love the matte white leather but the most popular pair has been the brown. Canada didn't get the brown pair at all and in the US the brown pair sold out right away. Still, lots left in the white and black pair though. If you are looking for a good sneaker to wear with jeans or a skirt, this is the pair. Sizing recommendations on these are a bit mixed. The website recommends sizing down one full size but I think at most you would want to size down 1/2 a size, and sometimes TTS is best. The TTS was ever so slightly big on me but easy to take on and off while sizing down a half size made the shoe the perfect length, but it was really hard to take on and off and the tongue would bunch up. I think if you have high arches or wide feet you want to stay TTS, and if your foot is really narrow size down 1/2 a size.
Shop These NSALE Picks Right Here!